Rejuvenate Immediate FaceLift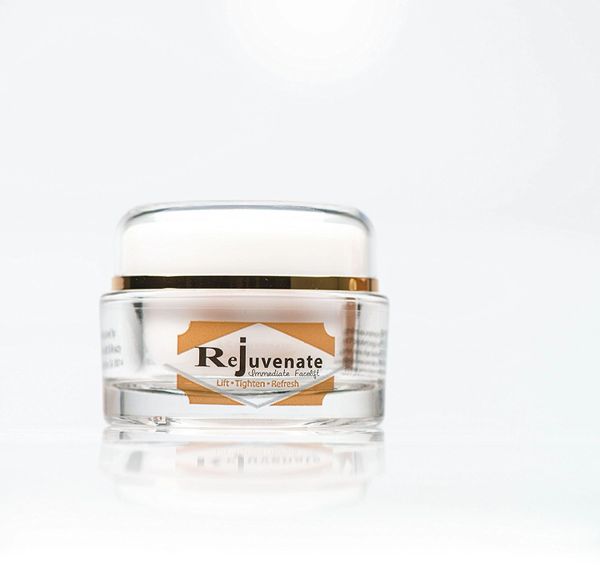 Rejuvenate Immediate FaceLift
1.0 oz A natural alternative to Cosmetic Surgery or Botox. Lifts and tightens the skin instantly and also delivers long term skin "tightening" ingredients. Use as a serum under an appropriate moisturizer.
Reduces wrinkle depth around the eyes
Instantly tightens and lifts the skin
Skin appears smoother
Increases moisture retention especially around the eyes where we need it the most
ACTIVE INGREDIENTS: Contains: Sesaflash, reflect 100%firmer and smoother skin with no tacky after feel or skin discomfort often associated with tightening products. Sesaflash is also hydrating to the skin. Deepaline PVB, A wheat bio-protein, Deepaline PVB is an anti-wrinkle and restructurizer. Matrixyl 3000, A peptide that specifically stimulates collagen synthesis and skin repair, offering long term skin improvement benefits. Argireline or Acetyl Hexapeptide-3, this is the powerhouse of this product folks, the ingredient which relaxes the muscles in the face when applied, thus allowing a significant reduction in appearance of wrinkles and fine lines caused by continued movement. Just like Botox inhibits the muscles ability to control facial muscles when injected in the area targeted to treat, Argireline or Acetyl Hexapeptide-3, accomplishes the same effect, but in a healthier, more easily and safely administered way. Brilliant!! This way you can keep your beautiful smile and your facial expressions that make you you!
1 oz.
Immediate FaceLift
Lift Tighten Refresh