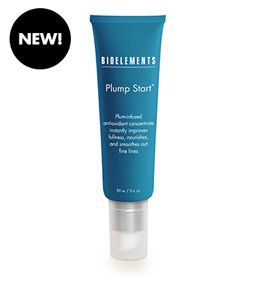 Bioelements Plump Start
Bioelements NEW Plump Start is a plum-infused antioxidant concentrate for youthfully smooth skin that instantly improves fullness, nourishes and smoothes out fine lines.
Powered by Collagen-4 ComplexTM, this intensive plumping concentrate surges moisture deep into surface layers to soak skin with vitamin C charged antioxidants, and significantly scavenge free radicals from 70% to 85%. This "liquid filler" includes three Australian wild plums plus a moisture-magnet marine bioactive hold to moisture in, and push it up through the epidermis to help support skin's volume and reclaim natural youthfulness. It's intelligent hydration that reads your skin and penetrates where it's needed – to visually improve the look of skin's wrinkle valleys and crevices.